Businesses are moving their enterprise networks from in-house infrastructure to the cloud. Using a cloud-based infrastructure allows companies to scale dynamically, reduce downtime, and enable a fully remote workforce. It also helps organizations to reduce their infrastructure cost.
Gartner predicts that by 2026, 75% of businesses will adopt a cloud-based digital transformation model. They'll store their data and run their workloads on computers hosted on the cloud. 
Does your business already use cloud-based network infrastructure? Or are you planning to migrate soon? In either case, securing your business's data and ensuring business continuity on the cloud should be your top priority. This is where cloud security comes in. 
Let's explore cloud security in detail and how managed cloud security services can help you protect your business. 
Here's what you'll learn:
Cloud Infrastructure: The Basics
Understanding the nature of your cloud infrastructure is essential to explore cloud security. Let's look at some basic cloud infrastructure terms.
Public vs Private Clouds
A public cloud is a scalable cloud infrastructure provided by cloud service providers like Amazon Web Services (AWS) or Microsoft Azure. Many users or tenants share the resources of a public cloud.
A private cloud is a highly secure, scalable cloud infrastructure dedicated to a single tenant. In this case, the single user has complete control over the security controls, access, and resources of the cloud infrastructure.
Public clouds are cheaper than private clouds but have more security concerns.
Managed vs Unmanaged Cloud Hosting
In a managed cloud setting, a third-party service provider will handle the installation and maintenance of your cloud infrastructure. They install software, monitor cloud performance, handle technical concerns like maintenance and bug fixes, and take care of security. You may choose managed cloud hosting with public and private clouds. 
When you choose unmanaged cloud hosting, the cloud service provider will only provide you with the basic infrastructure. You need a qualified IT team to set up and monitor your cloud infrastructure and manage technical concerns. The team should also monitor cloud security, detect threats, and apply security patches. 
Basically, with unmanaged cloud hosting, you are on your own to figure out how to run your cloud.
Now that we have the basic definitions, let's take a closer look at cloud infrastructure security. 
Security Challenges of Cloud Infrastructure 
When you run your business on the cloud, you must be aware of the security challenges associated with the cloud platform.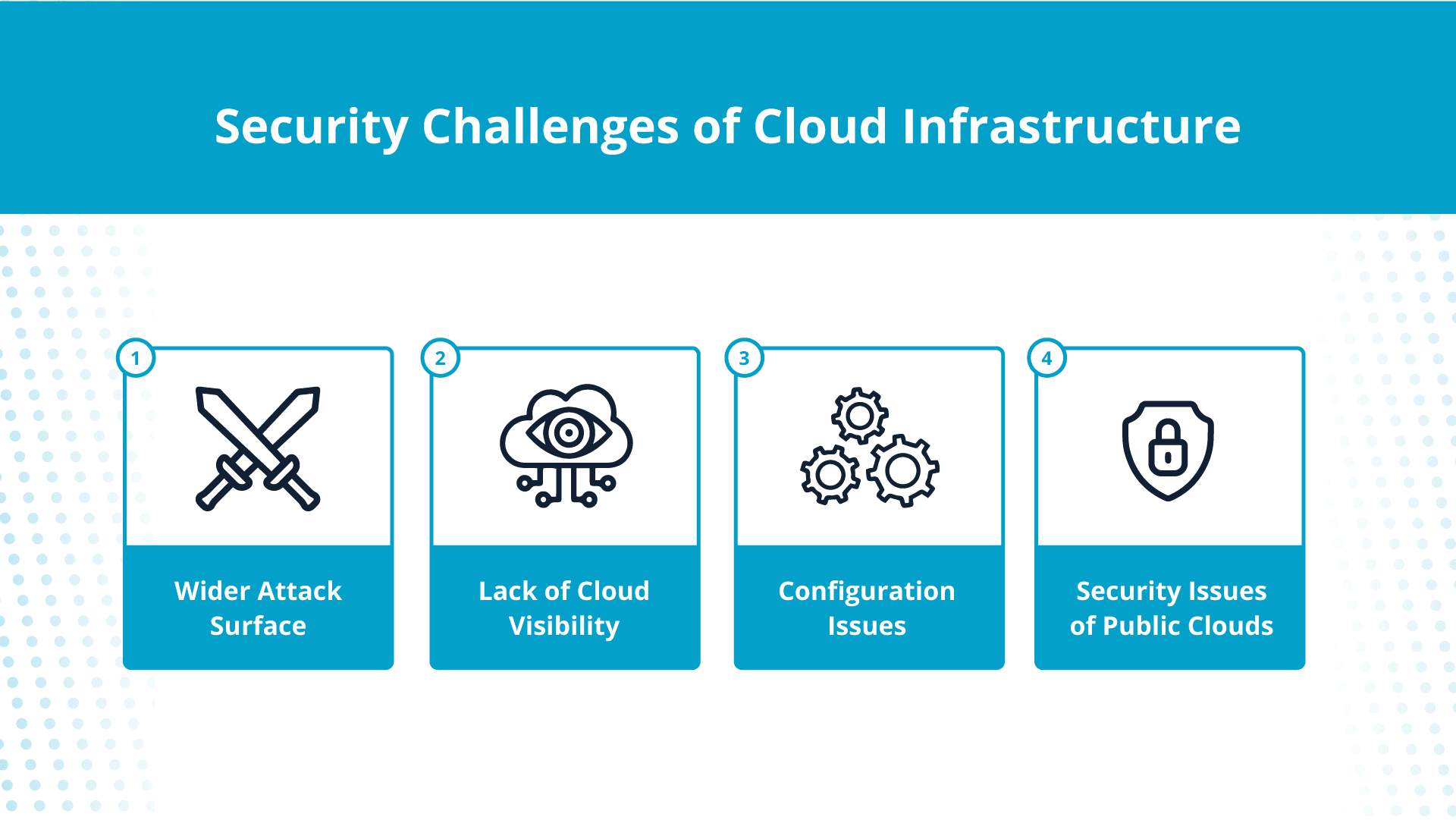 Wider Attack Surface
The attack surface of a network consists of all the network endpoints vulnerable to an attack. 
When you use the cloud to run your business, many people will have access to your network to retrieve data and perform business operations, often from multiple locations.
While you might be able to safeguard access from your on-site corporate offices, it's challenging with a remote workforce. Remote employees might use unsanctioned devices and networks like public Wi-Fi to access corporate apps and data, making your network vulnerable to cybersecurity threats like: 
Lack of Cloud Visibility
Your network administrators have tight control of on-premise networking infrastructure. While using cloud solutions, however, they might not have visibility over the business's security and performance. That is, it may be more challenging to see all activity on your cloud network.
This is especially true if you use a public cloud service where the service provider manages the security aspects and limits security controls. The lack of cloud visibility will limit the network admin's ability to monitor unauthorized access and security threats.
Configuration Issues 
Cloud environments are often complex, with many configurable parameters, like:
Users and groups.
Access permissions.
Performance parameters.
Setting these configurations needs expertise in cloud environments, and misconfigurations might make your cloud environment vulnerable. For example, an inexperienced network admin might give more control to a user than necessary, leading to security loopholes or data loss from a breach. 
Security Issues of Public Clouds
In addition to the security challenges associated with cloud infrastructure, you need to be careful about the security concerns of public clouds, such as:
A rogue cloud tenant might initiate a malware attack.
Third parties might gain access to your data after breaching another tenant's lax security.
Reduced security control options could limit your security options.
Private cloud infrastructure is the answer to these issues. Private clouds have higher initial costs than public clouds but offer better network security and total control for a single client. Liquid Web offers VMware private cloud and cloud-dedicated servers. 
So, how do you overcome these challenges and ensure the security of your cloud environment? Managed cloud security is a way to make your business secure and cost-effective on the cloud. 
What Is Managed Cloud Security?
Managed cloud security is a subset of managed cloud hosting services. In managed cloud security, you'll outsource cloud security tasks to a third-party service provider. These tasks include initial configuration, continuous security monitoring, and addressing security threats. 
The initial security configuration could include the following:
Configuring firewalls.
Creating access management rules.
Defining and implementing security protocols.
Setting up data backup and recovery routines.
After the initial configuration, the cloud security managed services will continue to support your business. Security management includes various tasks, such as:
Real-time monitoring of the cloud infrastructure.
Automation of security workflows.
Threat detection and prevention.
Technical support.
Now that you know what managed cloud security entails, let's explore how it will benefit your business.
Benefits of Using Cloud Security Managed Services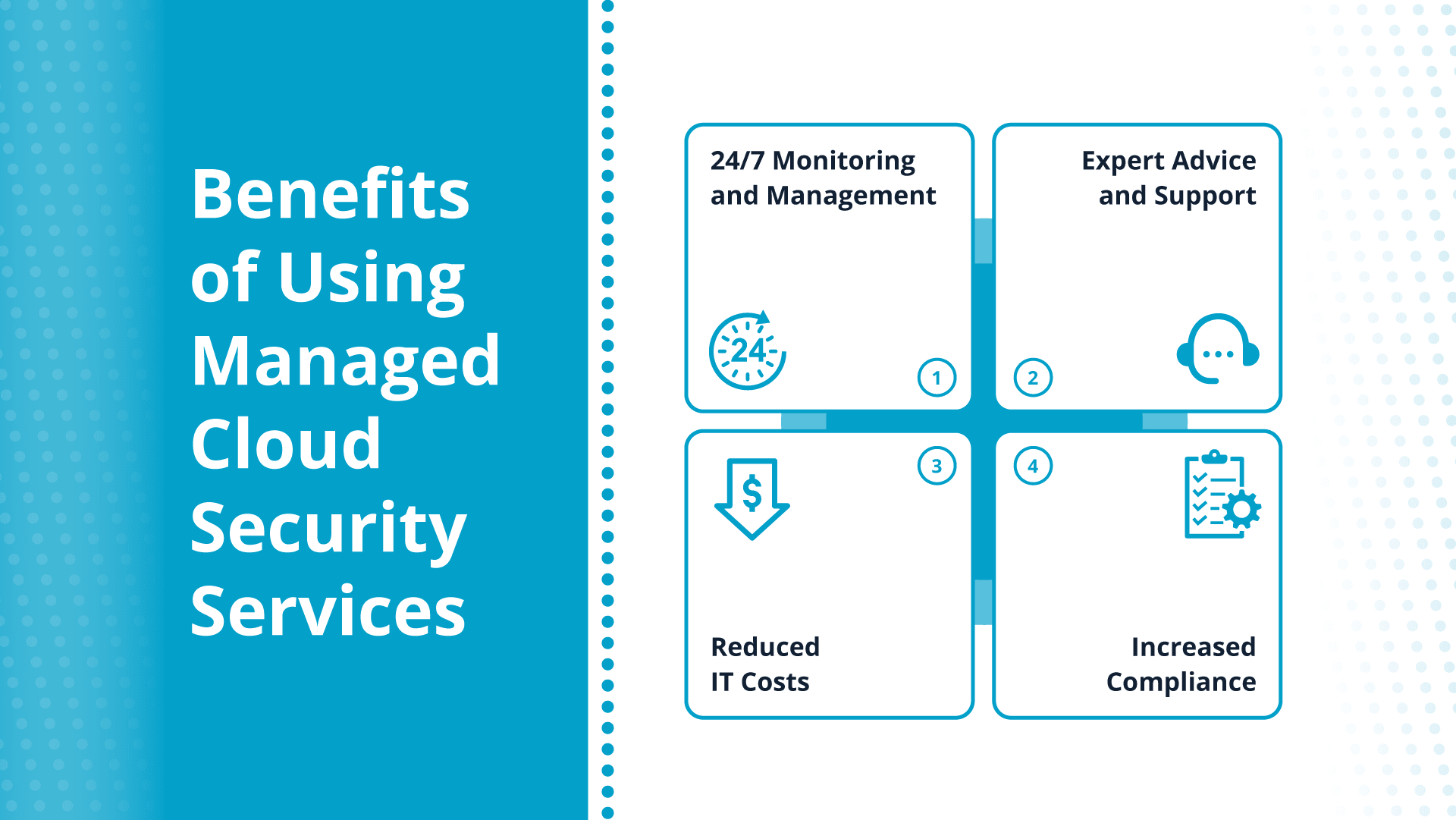 Cloud security is essential for your businesses to run smoothly while adhering to data privacy regulations. But you need an expert security team to manage the complex aspects of cloud security. 
Cloud security managed services remove this burden and help businesses focus on their core competence while securing their cloud infrastructure. 
 24/7 Monitoring and Management
Cybersecurity threats occur around the clock and never take a holiday. What's more, those attacks can result in downtime or data loss that can lead to customer dissatisfaction and affect your business reputation. You need 24/7 monitoring to detect and prevent these security threats as they occur. 
Hackers constantly try to find security vulnerabilities and discover new methods to penetrate the cloud infrastructure. The cloud security service provider runs automated workflows that will detect and patch security threats in time, thus reducing risk. 
Managed cloud security services also come with a highly-trained workforce specializing in cloud security that can create automated workflows to monitor your cloud infrastructure without manual intervention.
Expert Advice and Support
In 2022, Statista conducted a survey, and 62% of respondents recognized the wrong setup or misconfiguration of the cloud environment as the biggest security threat to public clouds. 
Any cloud environment, private or public, needs complex configurations to set access permissions. A wrong configuration might lead to unauthorized data access. 
A managed cloud security service will have experts who can correctly configure the cloud environment, avoiding sensitive data leaks or unauthorized access. 
You'll also get continuous technical support from cloud security services so you can focus on your core competence, like manufacturing, sales, or marketing, without worrying about your cloud's security posture. 
Reduced IT Costs
Handling cloud security in house comes with many costs: 
Workforce — You might need to hire cloud security experts.
Software Licensing — You need to purchase or subscribe to security tools.
Installation and Maintenance — Cost to install cloud security software, monitor, and keep it updated.
Cloud security managed services already have the expertise and required software licenses to set up your cloud environment. They will free up your IT teams from routine security tasks so that they can focus on new developments or infrastructure projects.
Increased Compliance
Businesses must comply with various data protection regulations depending on the location and industry.
A few examples of data security regulations are: 
Noncompliance could result in penalties, legal procedures, and even sanctions in certain countries. For example, noncompliance with GDPR can lead to 20 million euros or 4% of the company's global turnover in fines, and violation of CCPA may lead to penalties of up to $7,500 USD for intentional and $2,500 USD for non-intentional violations. 
Final Thoughts: The Benefits of Cloud Security Managed Services
Businesses are migrating to cloud computing for better scalability and cost reduction. However, moving data off-premises comes with increased cybersecurity risks. Cloud security is essential to preserve business continuity, regulatory compliance, and reputation.
If you don't have an in-house team to handle cloud security, cloud security managed services can do it for you. The security service provider will continuously monitor your cloud infrastructure, detect security issues, and provide technical support. 
Handing over your cloud security to a third-party service provider requires a trustworthy provider. Not only do you need powerful server clusters and high-availability databases, but you also need a provider that can manage security, databases, load balancers, file replication, disaster recovery, and backups.